Ports on Mallorca
With its 550 km of coastline, Mallorca is a popular meeting place for international and domestic friends of sailing and motorboat sports. A total of 43 harbours from small, picturesque fishing ports, to large marinas where cruise ships dock, boat owners and their guests have plenty to choose from. Approximately 15,000 highly sought-after berths are available and there are long waiting lists everywhere.
When is the best sailing weather on Mallorca? You should know, that in Mallorca a special sea wind, known locally as "embat," blows. It originates in the coastal areas and makes summer temperatures bearable. Its conditions are also ideal for young sailors and beginners, as it allows the still inexperienced sailor to sail in a relatively safe environment. The sailing season lasts from mid-May to late September. In July and August, the coastal area is packed, not only due to the number of tourists, but also because of the numerous regattas that take place. In all ports on the island there are moorings for visitors, but you must enquire beforehand as to which port is suitable for which yacht.
In most ports, there are also charter companies offering boat/ship rental – with or without a captain and sometimes even with crew. Length of hire can be a day, weeks or months, depending on the financial possibilities.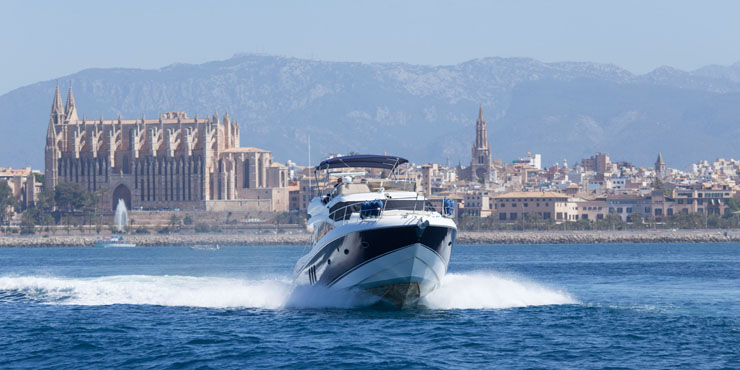 Mallorca's most beautiful moorings
Five, 5-star harbours in the southwest
Of the 43 ports on the island, we have chosen the five most important ones located in the southwest of the island: 5 ports with 5 *****. These are the ports of Palma, Puerto Portals, Port Adriano, Club Náutico Santa Ponsa and Puerto de Andratx. Minkner & Partner your trusted real estate agent always has highly attractive real estate on offer around these areas. Enjoy our small harbour tour.