Exhibitions from the Galeria de Arte Minkner as well as further Events for 2020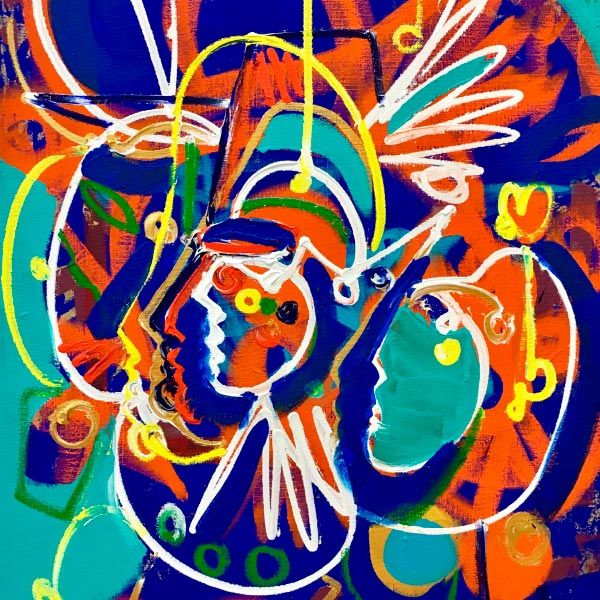 Art=Man=Creativity=Freedom
(J. Beuys)
New works from Marcus Tollmann
Exhibition from 11.10. – 31.12.2019
Vernissage: 11.10.2019, 17:00 h – 20.00 h in Santa Ponsa
Artist will be present

Markus Tollmann's new works are expressive, colourful and sensual. From 11.10. – 31.12.2019 he will exhibit them at the Galeria de Arte Minkner in Santa Ponsa. He inherited his talent from his father, the art professor Günter Tollmann, whose environment included Niki de Saint-Phalle, whose master pupil he later became. Already at the age of 15 he took painting lessons with Joseph Beuys according to his formula "Art = Man = Creativity = Freedom". Later an intensive collaboration in Francis Bacon's studio in London resulted. Much acclaimed exhibitions in Germany, Belgium, Poland, Spain, the USA and Russia followed, so that today the artist has a large international community of collectors.
WITH THE EYES OF THE CHILDREN
The world of Diego Arango Arango
Exhibition from 01.01. – 27.02.2020 in Santa Ponsa

The Colombian artist Diego Arango Arango (DAA) has lived on Mallorca since 1988. He studied in Bogota (Colombia) and Madrid (Spain). In the art scene he is considered to be a "sophisticated naive" artist, because he paints in a style that depicts dream images and symbolism with "the eyes of children". He is driven to capture dreams and myths on canvas. His art is shaped by pre-Columbian high culture. DAA always paints outdoors with his own strong colours. Mysterious, coded dream images of almost hypnotic power are created, which touch the spectator. The current exhibition shows paintings and ceramics created by the artist.
IMAGES OF THE SEA
New works by Michael Weigel
Exhibition from 28.02. – 08.04.2020
Vernissage: 28.02.2020, 17.00 h – 20.00 h in Santa Ponsa
The artist is present

Michael Weigel received his doctorate in "Aesthetics in Nature" in 2005 and has devoted himself exclusively to painting for many years. This is also the theme of his impressive painting: the fascination of the sea, the interplay between sea and sky, sunrises and sunsets, moving cloud formations, peaceful beach landscapes and the play of light in nature. Scharbeutz-Haffkrug is his adopted home. In his studio directly on the beach, he creates with skill and passion impressive pictures on his big theme, whereby his works are not natural images of specific landscapes or weather events, but creative compositions. Weigel has created an international community of collectors through 50 exhibitions at home and abroad (exhibition trips to Barcelona, Helsinki, St. Petersburg, Copenhagen, Dubai and Miami).
LAUGHING HEIRS THROUGH INTELLIGENT SUCCESSION PLANNING
Lecture and discussion on German-Spanish inheritance/tax issues
With lawyer Dr. Manuel Stiff
02.04.2020, 18.00 h – 20.00 h in Santa Ponsa
Born in Münster, he has been working as a German and Spanish attorney with double licence in Spain and Germany since 2002. He is a lecturer at the Westphalian Wilhelms University in Münster. Dr. Stiff specializes in German-Spanish inheritance law, real estate law, commercial law and divorce law and knows the legal issues and their solutions for both legal systems. In his lecture, Dr. Stiff will use practical cases to illustrate how a testator can "cultivate his field correctly" during his lifetime and how a tax-optimised transfer of assets can take place through legal, intelligent succession arrangements. Attorney Dr. Stiff is available for questions following his lecture.
ROCKA ROLLA
New works by Burkhard Lohren
Exhibition from 09.04. – 31.05.2020
Vernissage: 09.04.2020, 17.00 h – 20.00 h in Santa Ponsa
The artist is present
The Pop Art artist Burkhard Lohren combines digital and manual techniques and combines photography, painting and collages on canvas and aluminium. Lohren draws on the entire spectrum of pop culture and materialism, media, lifestyle, and celebrity cult. He tries everything from comic heroes and classic pin-up girls to rock'n'roll legends and Hollywood stars. In his pop art collages he confronts the spectator of his art with the modern world, which is driven by advertising, materialism and wasteful excess. ROCKA ROLLA is once again proof of Lohren's masterful ability to transcend the boundaries of pop art and at the same time bring out his unique pop style.
MALLORCA MAGAZIN Spring Cup 2020
powered by Minkner & Partner
May 2020 Golf Alcanada
Golf friends from all over the world are already eagerly awaiting the now traditional golf tournament on the Alcanada golf course "Mallorca Magazin Frühlings-Cup powered by Minkner & Partner". The Mallorca Magazine and the sponsors will again prepare a varied program with halfway catering, buffet with award ceremony, live music and tombola to give you an exciting and entertaining day. Details will follow shortly.
LET`S GET TOGETHER – MINKNER MEETS FRIENDS
Traditional Whitsun in Santa Ponsa
31.05.2020, 15.00 h bis 20.00 h
For more than 20 years, Minkner & Partner has been organizing the "Whitsun Festival" on the large terrace in front of the Minkner& Partner head offices in Santa Ponsa with life music, dancing, fresh drinks and tapas, with which the management Edith Minkner, Lutz Minkner and Marvin Bonitz and the Minkner team would like to thank their customers and friends for the trust they have placed in them. Also, this is a good opportunity to get to know one another other, converse and to exchange experiences. "The traditional Whitsun at Minkners is also the occasion for the FInissage of the BURGHARD LOHREN exhibition and vernissage with new works by the Paderborn pop artists HERMAN.
PENTECOST BIRD MEETS CUDDLY TOMCAT
New works by pop artist HERMAN
Exhibition from 31.05. – 06.08.2020
Vernissage: 31.05.2020, 15.00 h – 20.00 h in Santa Ponsa
The artist is present
Herman Reichold, short HERMAN with an "n", is one of the most profiled and successful pop painters of our time. In addition to his artistic skills, his works are particularly unmistakable due to their corners and edges. Herman's paintings usually targets the everyday things in life – sometimes humoristically subtle, sometimes bitingly satirical. The titles are an integral part of his works. They take the spectator into the actual world of Herman, open up the subtlety of the picture and seduce him to smile. For Herman Reichold, art is something every day, something uninhibited. He is happy when his pictures sweeten millions of portions of coffee on sugar sachets, for example.
PALMAS FACES – PALMAS FACADES
Assemblages by Prof. Jürgen Wölke
Exhibition from 07.08. – 08.10.2020 in Santa Ponsa
Without vernissage
Prof. Jügen Wölke was the undisputed master of assemblage, the spatial-plastic material images with which he recreated the "world in miniature". At scrap yards in Berlin and Mallorca he was known as a constant seeker and collector as well as in small, traditional grocery stores, where he found the themes that he took. Wölkes large-format works can be found, for example, at New York Airport, Leipzig Central Station, and in numerous private collections. The Berlin Senate repeatedly presented Wölke assemblages to its state guests as a guest gift. In Palma, he was taken with the maltreated, morbid facades of the old city. He created a delicate mileu of studies which are of documentary value.
ALWAYS LIVE FIRST CLASS, OR YOUR HEIRS WILL!
Lecture and discussion on German-Spanish inheritance and tax law
With lawyer Dr. Sabine Hellwege Dr. Sabine Hellwege
06.10.2020, 18.00 h bis 20.00 h in Santa Ponsa
If a German citizen passes away with assets, or even his last residence was in Spain, the German and Spanish legal systems are usually affected. The testators, during their lifetime, as well as the heirs after death, are well advised to entrust both the drawing up of the will and the settlement of the estate to an advisor who knows the law of both states. Dr. Sabine Hellwege is an expert on questions of German-Spanish inheritance law and has a doctorate in this field. She is admitted as a lawyer in Germany and Spain and will explain current issues in her lecture and also answer the questions of the guests comprehensively