Buy and rent properties in Mallorca
Minkner & Bonitz is your trusted partner when it comes to property on Mallorca. As a family business, for the past 25 years, we have made it our business to make people happy by finding their personal dream property on this wonderful island. You can find a large selection of attractive properties in the southwest of Mallorca using our easy to use search engine, or alternatively give us a personal search request. We have already compiled a preselection of the most sought-after requests.
We welcome you to Mallorca!
How do you envisage your Mallorcan property?
Everyone who wants to buy and own a property in Mallorca dreams a different dream and also has very different requirements. Should it be a permanent residence or just a holiday home? Do I want to have all the family and friends as guests or should the property be a personal hideaway? How important is the infrastructure, the proximity to a village or town, transport connections, proximity to the beach, sports and leisure facilities? And then the architecture: traditional Mallorcan, Mediterranean or modern? You see: the "Project Mallorca" needs a lot of consideration. In our following "type advice" we will introduce you to the most important properties that can be found on Mallorca: The flat (apartment), the house (semi-detached, village house), the (luxury) Villa and the Finca (country house).
Apartment (flat)
The most commonly purchased property type in Mallorca is a flat (apartment) in a multi-family or apartment building. Often the apartment buildings are located in Mediterranean residences with a communal garden, lawns, large terraces, an inviting swimming pool and other communal facilities (sports facilities, underground parking or open parking spaces). These residences offer increased security and are easy to maintain, as the communal facilities are looked after and maintained by an experienced administration. Particularly sought after (and usually sold first) is, for example, a penthouse in Port Andratx, in Paguera, Santa Ponsa, Porto Portals or in Palma. The rights and duties of the owners are based on the Spanish Condominium Act, which is very similar to the German one, and the respective statutes. With the purchase of a flat on Mallorca one buys special property (namely the flat) and a share of the common property (paths, garden, terraces and pool). Each owner must contribute to the costs of the community according to his co-ownership quota.
House (terraced houses, village house)
There is also great demand for a house. This type includes buildings with living areas between 100 m² and 200 m², often with a small garden, sometimes with a private swimming pool. A house in Mallorca offers greater privacy compared to a flat. In addition to detached houses, you will also find terraced houses and village houses in this category. Terraced houses are mostly located in residential residences along the coastal strip or at the golf courses. In these residences there are usually community facilities such as gardens, terraces and pools. The rights and obligations of the owners are governed by the Spanish Condominium Law. Village houses are usually located close to the centre of the village, so that one can easily access the infrastructure (cafes, bars, doctors, bank, shopping facilities). It's usually the charming, traditional ambience, but a lot of the time they are old fashioned, unless they have been recently renovated or refurbished. The maintenance costs of a house in Mallorca are usually higher than those of an apartment.
(Luxury) – Villa
The glossy magazines often show the (luxury) Villas of prominent owners from the film, television, culture, business and politics. Yes, many wealthy people from all over the world have built their villa, their dream house on Mallorca and spend their holidays here or even have a permanent residence on our beautiful island. The most popular exclusive residential areas of the southwest of the island are Port Andratx, Santa Ponsa, Costa d`en Blanes, Bendinat and Son Vida. By a (luxury) villa we mean a spacious, detached building with a living area of over 300 m², a beautiful Mediterranean garden, large terraces and a swimming pool. Luxury villas on Mallorca always have fantastic views, are often situated in first sea line, sometimes the luxury villas have their own access to the sea, and are built with the best construction quality, the use of the finest materials, high quality building services and a sophisticated design. The Irish writer Oscar Wilde is credited with the sentence: "I have a very simple taste – I am always satisfied with the best".
Finca (country house)
Many people who want to buy a house in Mallorca are looking for peace and relaxation, not the hustle and bustle of the tourists, but an oasis in the "other Mallorca", in the middle of nature, between almond and olive groves, preferably on the edge of an idyllic village and with a wonderful view of the landscape. This dream, dreamed by many, is called "Finca". The German clients understand by a Finca a small country house on Mallorca, although in Spanish usage a Finca is only a plot of land. In the southwest of Majorca there is a good offer of Fincas in the valleys around Andratx village, at the foothills of the Tramuntana mountains around the villages Calvia and Capdella and in Puntiro near Palma. Fincas on Mallorca can be bought in every size and therefore in every price range: from a small farmhouse, a larger country house to a renovated historical manor house. Fincas always have large plots of land with an average of at least 14,000 m² (minimum size for a rural development), which then also require more maintenance.
---
M&B – Mallorca real estate in a video-presentation
[yottie id="3″]
---
The Company
Minkner & Partner, founded in Berlin in 1984 and active on Mallorca since 1993, has since developed into one of Mallorca's leading real estate companies. With the head office in Santa Ponsa and the branch offices in Port Andratx and Palma, the company's main focus is on real estate in the southwest of the island.  Read more

Our Values
When Edith and Lutz Minkner developed the company philosophy for Minkner & Partner Mallorca Immobilien almost 30 years ago, the competition was astonished: free market economy and a value system seemed to contradict each other. Our values such as respect, integrity, reliability and team spirit are our basis.  Read more

The Team
"The whole is more than the sum of its parts", this is how Aristotle already described the meaning of a team, and he´s absolutely right. The competent team of Minkner & Partner works daily to achieve the best result for their customers, and this with a comprehensive support, a competent contract advice and a perfect after-sales service.  Read more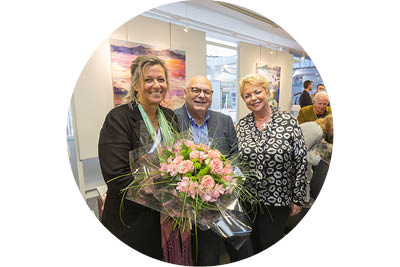 Culture & Social Events
If you want to feel at home on Mallorca, you have to integrate, you have to help build bridges, you have to integrate into the cultural and social life of the island.
Minkner & Partner is committed to social and cultural activities in an exemplary and diverse way and receives alot of public recognition and support.  Read more

---
Mallorca real estate "live":

---
Luxury properties to download 
Buying your own property in Majorca is a luxurious investment but not only is it a case of investing in a property but also in a lifestyle. Minkner & Bonitz appeals to a market of interested persons who, because of their professional success can afford this luxury, and the name "Minkner & Bonitz" is generally associated with high-quality properties in the upper price segment. We have 1,200 or more Mallorcan real estate properties in our portfolio – and no matter in which price segment they fall – all are luxury real estate. Our current "Homepages" catalogue is the essence of this: you will find a selection of exclusive properties, which are unique due to their exceptional location on Mallorca and their unique characteristics. Download the latest edition of "Homepages 2023″ from minkner.com !
---
Do you own a property and want to sell it?
If you want to sell your real estate in Mallorca, then you are in the best hands with Minkner & Partner. As a long-standing real estate agent in Mallorca, we not only have profound market knowledge, but also an extensive and solvent clientele ready to buy. In this respect we offer you ideal conditions for a quick sale of your Mallorca property with professional handling. Mallorca real estate for sale with M & P.
---
Customer letter to the M & P head office in Santa Ponsa
Hello Marvin,
As you know, I run a large company with internationally trained managers. That's why I have high expectations of my business partners. I would like to tell you that your multilingual skills as well as your profound knowledge of real estate on Mallorca, greatly impressed me. I now feel prepared to take the plunge and build my own villa on Mallorca with Minkner Partner's' support and the assistance of your extensive network of suppliers. You have already provided me with an excellent plot with wonderful sea views on which to build my property, now it is time to move on and plan my build. I am pleased and grateful for the support provided by the expertise of your team moving forward on Mallorca. I have already told friends of my experience with Minkner & Partner and they are very interested! We will certainly do more business on Mallorca.
---