Cala Boquer, the special bay in the North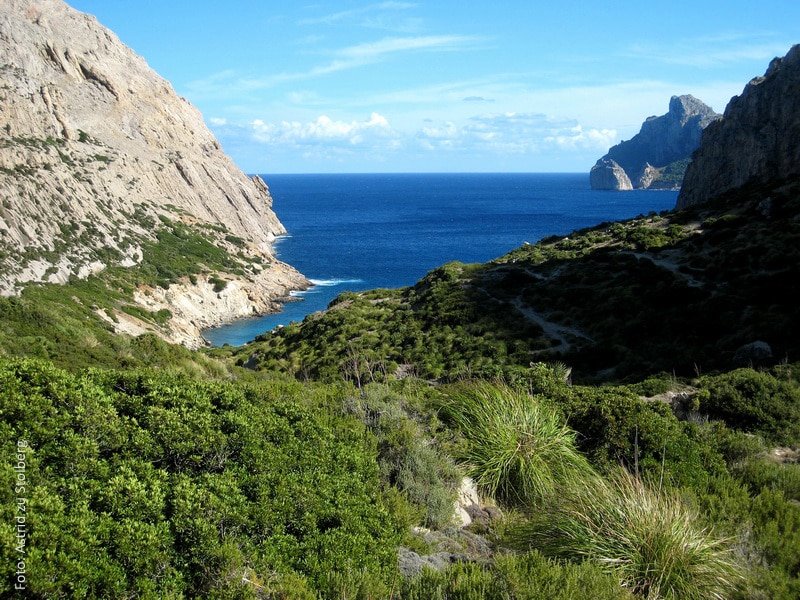 Cala Boquer is located in the north of Mallorca and the hike to the small beautiful bay is easy and not too long. There are also only a few metres of altitude to overcome, but you should still be able to walk. The paths are not paved and are washed out by the heavy rainfall in the winters.
For this tour I calculate half a day, as we stop several times during the hike to enjoy the beautiful views and scenery. Then we go and have picnic by the bay, and depending of the season one can go swimming here as well.
The hike begins in Port de Pollenca by the roundabout going to Cap Formentor, at the last roundabout before you go to Cap Formentor, there is large parking to your left-hand side where you are able to park your cars.
From there we walk through a plot of land that belongs to a large finca (we are still allowed to do this!!!) and then time and time again it is nice to enjoy the view to Palma´s bay. We follow a pathway that winds through rocks and a bushy landscape. Especially impressive are the huge rosemary bushes. We walk through a valley, first slightly uphill and to the right and left we see two steep and rugged rocky ridges.
When we have reached the highest point of today's hike, a fantastic view appears which goes from the bay to the steep light-coloured rocks that rise into the sea.
Now the pathway becomes a bit complicated, as it is divided into many trails. But if we keep an eye on our destination, Cala Boquer, i.e. always downwards, we cannot get lost. Down at the bay, there is a very special atmosphere that awaits us. Large flat pebbles, which were created by the swell of the bay that is oriented to the north. Rocks that glide into the sea in layers like puff pastry and an incredible calm.
You have to be careful of the wild goats here. Don't worry, they don't do anything, they're just out for a picnic. I don't know any other place in the Tramuntana mountains where the goats are so cheeky!
The way back is the same as the way there. The first part of the hike is up to the highest point, which again is not so easy to find, because there are so many different possibilities. But you can't get lost, you know the direction, always stay in the valley and always go uphill. When you have arrived back at the car, I recommend you to leave the car right there. It is only a few metres to the promenade in Port de Pollenca.
There, one can finish the hiking tour with a refreshment.
Further hiking tips in other places:  Alaró  | Bunyola  |  Cuber  |  Santa Magdalena | Talaia d´Alcudia