Station 4: Santa Ponsa – Centre for luxury real estate on the island
Have you purchased a holiday apartment or a villa in Santa Ponsa? For some it is relaxing to cook for family and friends during the holidays, for others a burden. Santa Ponsa attracts tourists and owners all through the year, many of whom have bought a property in Santa Ponsa as the coastal resort also has a wide range of restaurants. Many restaurants have adapted to mass tourism and to guests who only visit once. Others have specialised and attract a demanding clientele and offer a varied seasonal and specialty cuisine and a very good service. Today, I would like to introduce some restaurants from Santa Ponsa.
IL CARPACCIO | Restaurant | Tel. +34 971 69 41 62
Il Carpaccio – in Santa Ponsa since 2003 – is one of the gastronomic highlights in the southwest of the island. Host Salvatore Ferone – who came to Germany at the age of 13 with his parents and eight siblings – learned the gastronomy from scratch, and after stops in Dortmund, Bochum, Berlin and Gelsenkirchen found his home on Mallorca. The spacious, tastefully furnished restaurant has a huge terrace and in summer, especially in the evening's, cheerful gatherings of international guests with families and friends come to celebrate with delicious Mediterranean food (fish, meat, pasta, pizza) of excellent quality, and an exquisite wine selection, (Salvatore's passion) in a unique atmosphere. Salvatore spoils his guests in a warm Italian way.

BIRDIE LOUNGE | Restaurant | Tel. +34 971 69 07 40
Mediterranean residences and the Ensaimada of Santa Ponsa's villa hill have attracted many international friends of the island, but the gastronomic offer of the area was zero until the Birdie Lounge opened its doors just a few metres from the sea. It is a tastefully decorated restaurant, with a large winter garden and in the front area a Mediterranean garden where guests can enjoy themselves during the summer months. Speaking of taste: The menu is a combination of Spanish and German cuisine, not pretentious, but good well-prepared wholesome cooking, fried, well-seasoned, attractively presented and a friendly service – with carefully selected wines from Spain, Italy and Germany.

ADELFAS BY JENS | Restaurant | Tel. +34 871 77 41 51
Nicole (service) and Jens (chef) Bräuning are courageous restaurateurs: in the middle of coronavirus times they opened their "Adelfas by Jens" in Santa Ponsa. The courage seems to be rewarded, because already in the first weeks the restaurant is well attended and the guests are full of praise. No wonder, because Jens Bräuning knows his trade. From the Steigenberger Acadamy to working for star chef Berthold Siber in Constance, Las Dunas in Marbella and the Lila in Portals Nous, he can now realise his own concept. The sophisticated menu offers, for example, as starters lamb sausages with lemon and thyme, spinach salad & caramelised apple; scallop carpaccio with tartar of red prawns from Soller and as main courses as fish cataplana – fish and seafood of the day with fine herb sauce and vegetables and beef tenderloin lacquered with Hoi Sin sauce and sautéed snow peas. We were thrilled!
VIVO! | Restaurant |  Tel. +34 971 69 04 69
VIVO is not an insiders' tip, but is one of the good gastronomic locations in Sana Ponsa! (lively, and bustling). Located on the main street, the couple Antje (in charge for service and ambience) and Andreas Trinks (he conjures up magic in a tiny kitchen) have succeeded in transforming the small restaurant into a tastefully furnished restaurant where guests visibly feel at home. The main focus of the menu is a German/Austrian/Mediterranean cuisine with schnitzel, duck, goulash, fish specialties, also the famous Kaiserschmarrn, combined with a little cross-over to the international cuisine. This goes down well with the regular German and English residents who come to enjoy the excellent lunchtime daily menu.

ANTICA ROMA | Restaurant | Tel. +34 971 69 95 70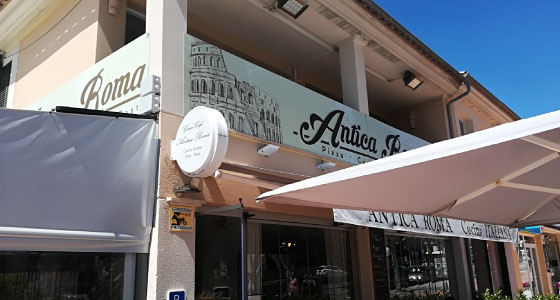 Carlo Ferone, with his restaurant Gran Cafe Antica Roma, has a friendly brotherly rivalry with his brother Salvatore Ferone the owner of Il Carpaccio. From the once invisible premises on Santa Ponsa's main street, he has created a restaurant with a green and sheltered terrace, which prepares fantastic dishes with pasta, fish and meat in every season, using all fresh seasonal products and producing an Italian, Mediterranean cuisine of a special kind. In addition, he has a long-standing team in the kitchen and in service, who enjoy "working for the guest". The guests, many of whom are regular guests – come to enjoy the food and ambiance and are not in a hurry to leave.

BLOCK HOUSE | Restaurant | Tel. +34 971 59 45 00
The Block House – the steak house in Santa Ponsa – has been offering consistently good quality for many years. In a rustic atmosphere a friendly, attentive and quick service delivers best quality from the grill. The Block House salad with various dressings always gets the best marks with the starters, but also the bruschettas, the beef carpaccio or the freshly made tartar. The steaks are served either with baked potato or oven-fresh Block House bread. And then the delicious steaks with the desired (reliable) cooking level: sirloin, rib-eye, filet mignon or American tenderloin – the best in Santa Ponsa. Those who are not into steaks will be spoilt with tender saddle of lamb, fresh fjord salmon or Oldenburg turkey breast. In addition, there is a wide range of drinks and a small but well composed wine list. The Block House in Santa Ponsa – always worth a visit.