Station 1: Puerto Portals, the exclusive harbour of Portals Nous
If you own a villa or an apartment in Puerto Portals or Portals Nous, you are lucky. Luxury yachts of international owners are moored at more than 600 berths and together with the Promenade, designer boutiques, yacht charter companies, bars, trendy cafes and restaurants, all compete for the business of the demanding clientele of celebrities, businessmen, yacht owners and tourists who want to" see and be seen." During the balmy nights from Spring to Autumn, you can end the day in one of the many restaurants and let yourself be pampered by a varied gastronomic offer and excellent service.
BAIBEN | Restaurant | Portals Nous | Tel. +34 971 675 547
In 2016, the only two-star chef on the island, Fernando Pérez Arellano (Restaurant Zaranda Son Claret) opened his restaurant Baiben which used to be the former exclusive restaurant Tristan, which features an outdoor area, and the Baiben bar. With coloured glass and bronze elements, an ambience was created that combines minimalistic charm with Art Deco elements. Arellano has thus created an atmosphere that also explains its kitchen concept, namely Mediterranean cuisine with Latin American and Asian elements. In addition to sensational tapas, there are homemade pasta, seafood and meat specialities – all with Arellano's signature. With a selection of 700 (!) wines.
SPOON | Restaurant | Portals Nous | Tel. +34 971 677 225
SPOON restaurant is a popular meeting place for yacht owners and for an international, but predominantly German audience. The menu is varied and offers delicacies from pasta dishes, Sushi and Asian dishes to Mediterranean and Northern European highlights. From the starters I can recommend salmon tartar with cucumber carpaccio and the rocket salad with king prawns. For the main courses, Spoon can score with the bison filet with roasted potatoes, fresh fish dishes and the always popular Wiener Schnitzel with its famous potato salad. A good selection of wines and a low key, but excellent friendly service, always make an evening at the Spoon restaurant an unforgettable experience.
RITZI | Restaurant | Portals Nous |  Tel. +34 971 68 41 04
A prime location for outstanding Mediterranean cuisine combined with perfect service, is the restaurant Ritzi. In Summer with its inviting, open terrace located in the first line of the harbour, and also in Winter when it changes into a heated Pavilion. At the Lounge Bar you can shorten a possible waiting time with the best drinks or also end the evening with a drink. The brothers Antonio and Salvatore Langobardi with their professional team, offer high-quality Mediterranean cuisine: seafood, grilled shrimps, lobster specialties (try the fantastic "Risotto al Bogavante"!), Pasta, fresh meat, all served with authentic flavours and great hospitality. In addition, a fine wine list. A MUST for friends of good, Mediterranean, authentic cuisine.
FLANIGAN | Restaurant | Portals Nous | Tel. +34 971 679 191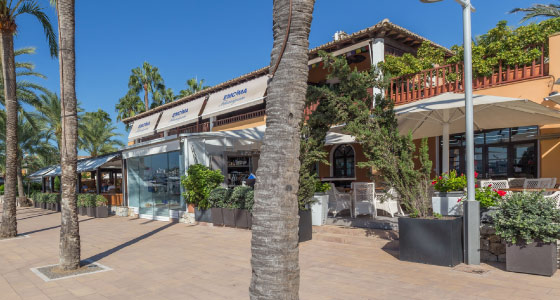 For 30 years now, FLANIGAN in Puerto Portals has been a prime location for sophisticated Mediterranean cuisine, in short: a classic. For the small appetite the Flanigan hamburger or the Steak Tatar are very popular as well as tapas, gambas, chipirones, fish & chips, ham and pasta dishes. Regular guests particularly recommend the fresh fish at market prices in a variety of preparations, e.g. sea bass baked in salt. Flanigan is also well known for its apple strudel with ice cream, which is baked especially for the guest and should be ordered when ordering the main course because of the preparation time of 30 minutes. From the inviting terrace you can enjoy a beautiful view of the harbour.