Station 5: Palma – The pulsating Metropolitan Island
For some years now, living in Palma has been the trend. Palma has spruced itself up, run-down facades and houses have been renovated, new life has moved into the Metropolis. Not only Palma's old town apartments; but also, a gastronomy has settled down in the street premises which has attracted international clientele as well as Palmas own residents. There are a wide range of dishes on offer: typical Mallorcan food, new and gourmet Mallorcan dishes, Mediterranean, Asian, Japanese, Indian, Thai or a mix of all of these, now called often called "cross-over" dishes. In the gourmet gastronomy there is a varied offer in traditional or modern cuisine, usually with an exquisite range of wines.
OLA DEL MAR | Restaurant | Tel. +34 971 27 42 75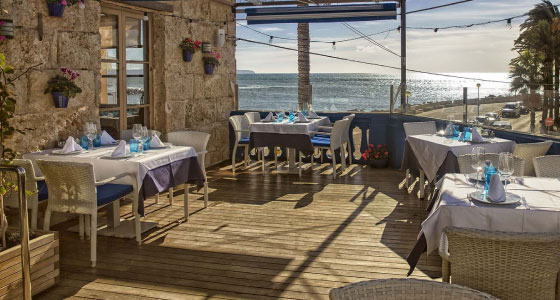 After gaining experience as a manager in Caballito del Mar ten years ago, Guillermo Cabot ventured into self-employment. He was successful: His restaurant Ola del Mar located along the Portixol promenade is very popular. The terrace areas have wonderful views and here is the ideal place to enjoy the Mallorcan cuisine: such as fresh fish from the local waters, crabs from Sóller, rice, pasta and stews.
"We cook with Mallorcan salt, a few drops of olive oil and tasty fish from our coast, to create nutritious, exciting and a surprising cuisine for our guests", this is the simple philosophy of Guillermo Cabot.
EMILIO INNOBAR | Restaurant | Tel. +34 657 50 72 94

The Emilio Innobar restaurant in the heart of Palma, has long since ceased to be an insiders' tip, and is now a popular meeting place for international guests. Emilio Castrejon calls his cuisine, which is a subtle blend of Mexican, Asian and Mediterranean flavours, "Fine Fusion". Emilio works only with fresh, high-quality ingredients, which results in a menu that changes almost daily, using fresh produce from the local market. In addition, there is an outstanding selection of sashimi, tataki and ceviche based on tuna, salmon, shrimp and a variety of white fish, and of course delicious meat dishes. Emilio and his great team will make the evening a great experience.
FERA PALMA | Restaurant + Bar | Tel. +34 971 59 53 01
In Palma's best old town location, the Fera restaurant is housed in a stylishly restored mansion. And it has a lot to offer besides excellent cuisine: the large, stylishly furnished dining room with bar and lounge corner, a library where you can eat undisturbed in a smaller circle and an exhibition room with works by contemporary artists. The chef from Austria Simon Petutschnig, who has worked with several Michelin-starred chefs, spoils guests with modern "MediterraneanAsian" cuisine. Petutschnig delights the eyes and the palate and always impresses with changing menus for lunch and dinner. All this is topped off by a well-stocked wine list.
MARC FOSH | Restaurant |  Tel. +34 971 22 73 47
Marc Fosh is considered one of Mallorca's top chefs since 2015 when his restaurant was awarded a Michelin star by the Michelin Guide. In the former monastery, which is now the modern, contemporary hotel "Convent de la Missio," Marc Fosh welcomes his guests into a minimalist atmosphere and ensures unforgettable moments with a modern, Mediterranean cuisine. Fosh brings degustation menus with local ingredients to the table, all of which can be found on the Balearic Islands and are inspired by a special passion and variety from the Mediterranean. All of this in a unique ambience, historic, yet modern and contemporary. A "must" for the lovers of gourmet cuisine.
CAN EDUARDO | Restaurant | Tel. +34 971 72 11 82

Since 1943, Can Eduardo, located right on the fish exchange of Palma's port, has developed from a canteen for dock workers, to a trendy institution for lovers of Mediterranean cuisine. Guests can expect freshly caught fish, prepared in all variations and always superbly prepared – from the oven, from the pan, from the grill, as well as their excellent fish soup. Just as good and seasonally changing are the meat dishes and vegetarian dishes. All this in a – now modernised – ambience with a view of the Cathedral and the harbour, as well as an excellent, attentive service. In summer, the terrace area is particularly popular – this is the Mediterranean lifestyle and this is the place to live!
ADRIAN QUETGLAS | Restaurant | Tel. +34 971 78 11 19
After highly successful stints in London, Paris and Moscow, Adrian Quetglas currently commutes between Palma and Moscow. In both destinations, he delights his guests with his vision of international cuisine with a Mediterranean touch. His menus take guests on a journey of pleasure that appeals to all the senses. He democratises haute cuisine and makes his author's cuisine accessible to all. Adrian Quetglas` cuisine is a combination of market cuisine, tradition and avant-garde together with a perfect aesthetic. His credo: "The best work comes from the hands of a happy person!" Adrian Quetglas offers lunch menus for €35 and tasting menus for €60 – price excluding drinks in each case.