Station 9: Beach clubs in the southwest
Nowadays, you can find along every coastal strip in the southwest a beach club, for people that want to belong to the "In" crowd and that want to be seen. The popular clubs create a Caribbean feeling, are located directly at the sea, some also have sea access, a small beach or swimming pool, spacious terrace areas with sunbeds and lounge areas where you can enjoy the relaxing atmosphere, refreshing drinks and exquisite snacks, as well as the good-looking Camareras or Camareros. In the evening there is usually an exquisite menu, followed by live or DJ music and where you can enjoy views of the sea and sunset. Here I introduce you to four beach clubs in the southwest of the island.
BEACH CLUB GRAN FOLIES | Beach-Club | Tel. +34 971 671 094
Cala Llamp is a small neighbouring bay of Port Andratx and therefore only a few minutes away from the popular harbour promenade. The Beach Club "Gran Folies" is located directly next to the development of the same name, as well as the new villa residence "New Folies" which has mainly international owners. The club offers a saltwater pool right by the sea, sun loungers in the solarium area, a VIP area with Bali beds and a bar-restaurant where guests can enjoy snacks and salads and also a Mediterranean menu. The menu includes fish in salt, paella with lobster and chateaubriand. In the evenings, there is also regular live music with reggae or flamenco sound. Themed parties like the "Great Gatsby Night" are also popular – all in elegant white in the Long Island style of the 1920s. Those who want to be particularly chic can moor their yacht in the bay and be picked up by the yacht service.
MHARES SEA CLUB | Beach-Club | Tel. +34 871 116 237
The location could not have been better chosen: Half an hour's drive from Palma, the Mhares Sea Club is located along the hillside near Puig de Ros, above a former mine from which the stones for the construction of Palma's Cathedral were quarried 1,000 years ago. Guests are greeted by a breathtaking view of the Delta Bay with its turquoise waters. The Adults-Only-Club located directly at the sea, has good parking facilities located above and invites to a chill-out day on the spacious terrace areas with pool, white umbrellas, and comfortable loungers, Bali beds for two people as well as sun beds. In addition, there are snacks and cava and in the evening in the restaurant a Mediterranean cuisine (lots of fish) with fresh ingredients. Once a week there is a "dinner with music" with a vast selection of music from chill-out music to classical music, mostly from the DJ, now and then also live music. The Mhares Sea Club is open from the end of March to October.
PUROBEACH | Beach-Club | Tel. +34 971 744 744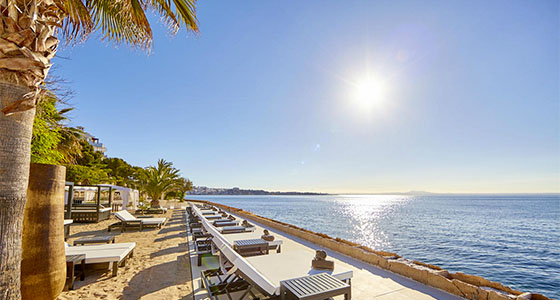 The Purobeach, beautifully situated on a small peninsula in the Cala Estancia, offers breathtaking views of the bay of Palma and a fantastic sunset. For many years the Purobeach, founded in 2005, has been a "must" for the rich and beautiful who want to chill out and be pampered for a day or evening in an elegant Caribbean atmosphere. A small pool, loungers and Bali beds, all in white and with fabrics inflated by the wind, massages, chilly sounds, exotic cocktails, champagne, a variety of snacks, burgers, fresh salads, fish pâté, tortillas and a delicious selection of desserts, all offered by summery, white-dressed waiters will spoil the discerning guest. There is also a small boutique with beach accessories. The CD`s with Chill-Out-Music, especially produced for the Purobeach, can also be bought there. A wonderful location just outside Palma.
NIKKI BEACH | Beach-Club | Tel. +34 971 123 962

The rich and beautiful, who are also at home in Barbados, Miami, Koh Samui, Monte Carlo, Saint Barth, Dubai and Saint Tropez, do not have to miss their Nikki Beach Club on Mallorca. Those who want to, can be picked up from their hotel or their Mallorca villa with a Bentley service and taken to this elite club with chill-out terraces and Caribbean flair which is located directly on the beach at Magaluf. Restaurants and bars offer sophisticated Mediterranean cuisine and champagne events. The owners of Nikki Beach never tire of coming up with new themed events: White, Red or Brazil parties, the National Tequila Day, the Sunday Champagne Brunch or Sparkling Fridays. Those who want to can continue celebrating on their yacht, which can be anchored in the bay, and have a premium menu delivered on board. Those who want to enjoy all this, should not leave their platinum credit card at home!